Shopping Cart
Your Cart is Empty
There was an error with PayPal
Click here to try again
Thank you for your business!
You should be receiving an order confirmation from Paypal shortly.
Exit Shopping Cart
Recherché Specialty Picture Framing

191B Heidelberg Rd. Northcote Vic. 3070 Call 61 3 9486 1236
East to West, North to South: ART, SERVICE MEDALS, FRAMING
CENTENARY OF THE FIRST WORLD WAR, 1914 - 1918
Descendants of the 14th Battalion meet to honour their forebears this Sunday October 12 at City of Port Phillip Town Hall

And Service Medals Melbourne a division of Recherché Specialty Picture Framing will make a special presentation to the "Descendants of 14th Battalion Jacka's Mob"  - a tribute frame to the soldier whose heroic service led to his being awarded the first ANZAC Victoria Cross at Gallipoli.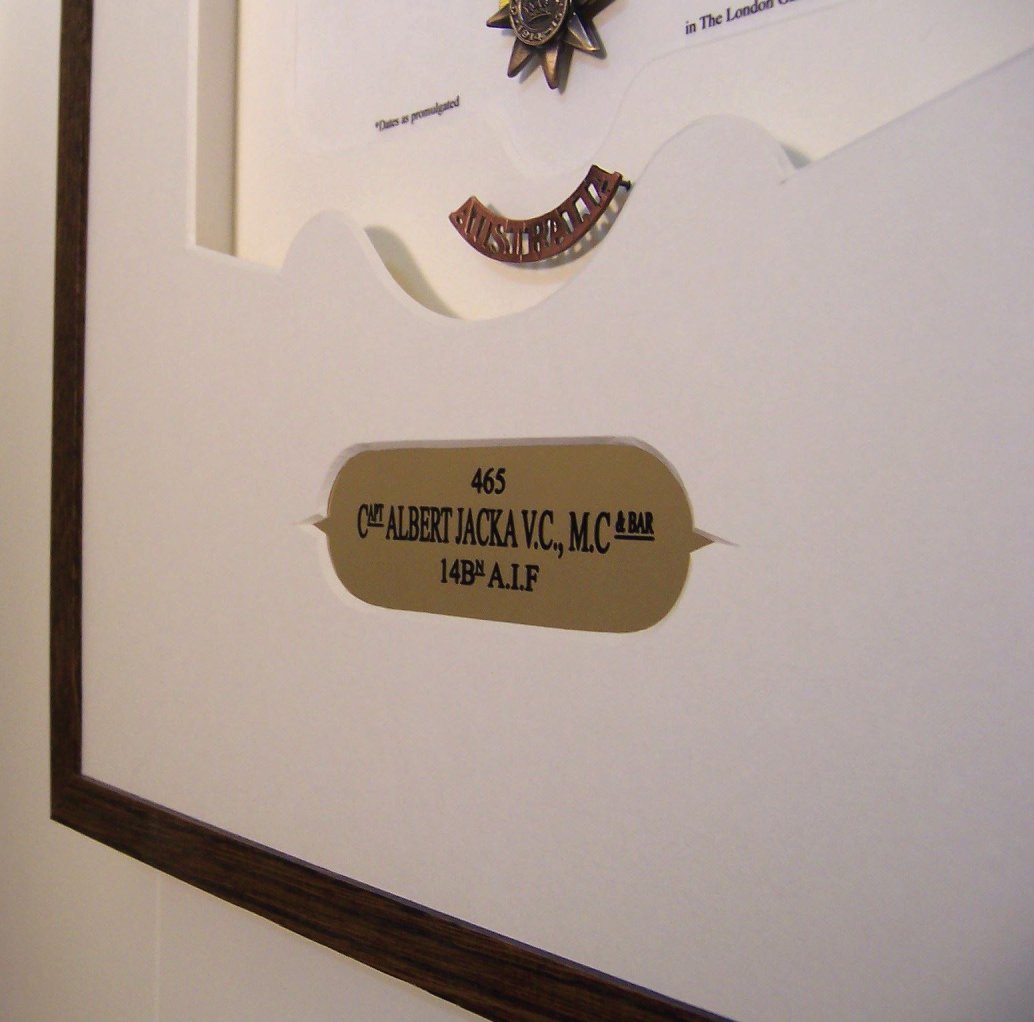 Sometimes when taking an unexpected turn around a corner, or going down a path not walked before, a quiet spot of contemplation near a war memorial will be revealed.
It was just one Saturday in the wintry sunshine that I happened upon such a monument which had been erected by the Mitcham RSL.
Beyond this imposing memorial with its lists of names, of those who fell and of those who returned, children could be observed playing in the distance, families wheeling prams, dogs held on leads - all experiencing the freedom sought for and won by those who went to war on behalf of their country.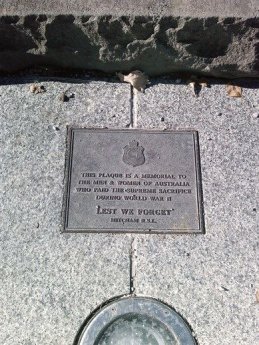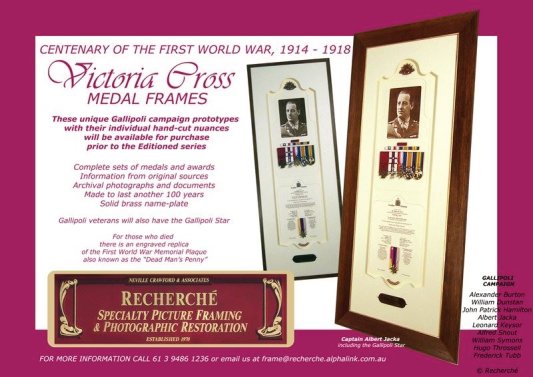 Be sure to put yourself on the list as a possible purchaser, requests will be honoured in order of registration of interest

Prototypes for the upcoming Recherché Victoria Cross Limited Edition Medal Frames are in progress.
They feature shaped mats cut in the traditional manner of 100 years ago - each designed and cut by experienced specialist picture framer Neville Crawford.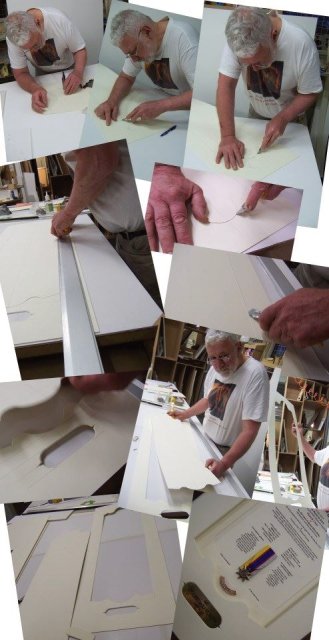 Focussed attention to detail is needed as Crawford shapes the matting, layer by layer and cut by cut in preparation for the inclusion of complete sets of medal groups, archival photographic portraits, archival documents and solid brass name plates ...
Simple tools are used - a steel straight edge and an Olfa knife. 1260 gsm heavyweight Canson conservation board in an Antique White is the board and colour of choice.
These unique prototype frames, with their individual nuances, will be available for sale prior to the completion of the Editioned series.
Be sure to put yourself on the list as a possible purchaser, requests will be honoured in order of registration of interest
With Anzac Day 2013 almost upon us and nearly 100 years since WWl, it's all stops out to let everyone know about the very special Limited Edition series underway at Recherché in Northcote.
Currently in the throes of production are prototypes of Medal History Frames for Australian Victoria Cross recipients.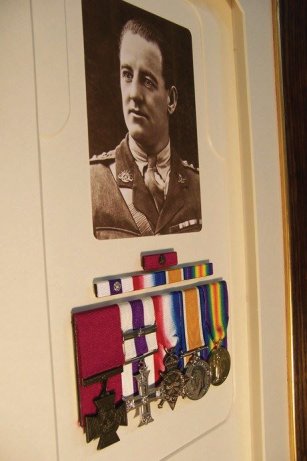 First cab off the rank is No. 465 Lance Corporal Albert Jacka of the 14th Battalion, Australian Imperial Forces.
Lance Corporal Albert Jacka was awarded a Victoria Cross by His Majesty the KING on 23 July 1915
"For most conspicuous bravery on the night of the 19th-20th May, 1915, at Courtney's Post:, Gallipoli Peninsula"
So to start at the beginning, we first salute our Gallipoli heroes -
Alexander Burton
William Dunstan
John Patrick Hamilton
Albert Jacka
Leonard Keysor
Alfred Shout
William Symons
Hugo Throssell
Frederick Tubb
These prototypes will be available for sale prior to the main edition.
Be sure to put yourself on the list as a possible purchaser, requests honoured in order of registration of interest

/