Shopping Cart
Your Cart is Empty
There was an error with PayPal
Click here to try again
Thank you for your business!
You should be receiving an order confirmation from Paypal shortly.
Exit Shopping Cart
Recherché Specialty Picture Framing

191B Heidelberg Rd. Northcote Vic. 3070 Call 61 3 9486 1236
East to West, North to South: ART, SERVICE MEDALS, FRAMING
CENTENARY OF THE FIRST WORLD WAR, 1914 - 1918
"Black Adder" and its ilk are definitely not suitable for schools according to UK Education Secretary Michael Gove.
Professorial historians agree with this main thrust saying that there is plenty of other much more suitable material available for dissemination in schools.
However Cambridge historian Professor Richard Evans also attacked Mr Gove's interpretation of the war, saying he was 'peddling his own political myths'.
Professor Evans said: 'He wants to argue Britain was fighting for democracy but he has obviously forgotten that Britain's main ally was Tsarist Russia – a despotism far greater than anything in the Kaiser's Germany'

'You also have to remember that only 40 per cent of adult men had the vote in Britain.
'The war was a very complex set of circumstances and it is wrong of Mr Gove to reduce it to patriotic tub-thumping that we should support the soldiers.
'Of course no one wants to belittle their heroism and self-sacrifice, but we have to look at the war in the round and the long term.'

STORY CREDIT and Read more at:

"On the morning of October 4, 1913, Sydney Harbour was lined with thousands of Australians eager to catch their first glimpse of the Royal Australian Navy.As the battlecruiser HMAS Australia, cruisers Melbourne, Sydney and Encounter, and destroyers Warrego, Parramatta and Yarra sailed into the Harbour for the first time, it marked a key moment in Australian defence history.The Royal Australian Navy, long years in the making, had arrived to make its mark."
Mike Carlton, journalist and historian, gives an Australian perspective on the battle which took place on November 9, 1914 in his book "First Victory 1914" published by Random House -
And at last month's International Fleet Review in Sydney Harbour, HMAS Sydney lV took a major role in the Naval centenary commemorations - the differences between the 1913 vessel and its current namesake are examined by Lincoln Archer and Daniel Franklin -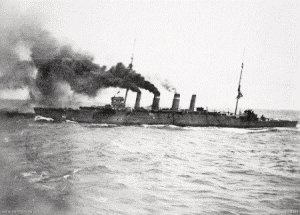 Image courtesy Australian War Memorial and Wikipedia
http://en.wikipedia.org/wiki/File:HMAS_Sydney_1914_AWM_EN0194.jpg
Victoria Cross recipients will be central to the United Kingdom commemorations of the centenary of WW1.
There will be a national competition for the design of commemorative paving stones and these paving stones will be laid in the hometowns of all those in the United Kingdom who were awarded the Victoria Cross.
The VC is the highest decoration for bravery under enemy fire.
Full details can be found here
Sometimes when taking an unexpected turn around a corner, or going down a path not walked before, a quiet spot of contemplation near a war memorial will be revealed.
It was just one Saturday in the wintry sunshine that I happened upon such a monument which had been erected by the Mitcham RSL.
Beyond this imposing memorial with its lists of names, of those who fell and of those who returned, children could be observed playing in the distance, families wheeling prams, dogs held on leads - all experiencing the freedom sought for and won by those who went to war on behalf of their country.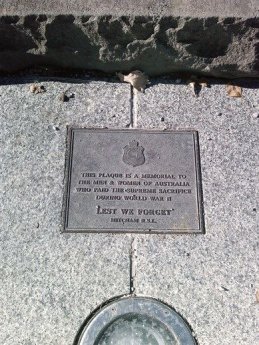 Sometimes, to everyone's distress, war service medals can be lost or stolen. These important items, the record of a service history, mean so much to all concerned.
Sometimes however there is a good ending to a "Lost Medals" story and here is one such story from the DISS EXPRESS.
The
Diss Express
is an
English
newspaper
that covers a 500-mile square circulation area on the Norfolk/Suffolk border. The paper was founded by Mr Abbott in November 1864 as the Diss Express and Norfolk & Suffolk Journal.
Diss man reunited with grandad's lost medal
Published on 03/06/2013

A Diss man has been reunited with his grandfather's lost wartime medal following an appeal in the Diss Express.
The 1914-1915 Star Victory medal, a First World War campaign medal, was found by chance in Diss by passer-by Adam Spriddell on the pavement near Louie's Lane and Factory Lane.
After the Diss Express featured the lucky find, John Gintner got in touch to say it was his grandfather's medal and had been stolen during a burglary at his mother's house.
The medal was awarded to Diss man Reginald William Sturman, who saw service as a bombardier in northern France with the 15th Siege Battery, which later became part of the 2nd Army.
Norfolk-based military researcher and battlefield guide Steve Smith investigated for the Diss Express but said Mr Sturman's personal war record had not survived having been destroyed by a fire during the Blitz in the Second World War.
However, as part of the 2nd Army, he said Mr Sturman would have seen service in some of the heaviest fighting on the Somme in 1916 and at the 3rd Battle of Ypres, known as the Battle of Passchendaele, in 1917.
Both battles have come to symbolise the First World War for their catastrophic and futile loss of life and the appalling conditions endured by soldiers."Siege batteries were deployed behind the front line, tasked with destroying enemy artillery, supply routes, railways and stores," Mr Smith said. "The batteries were equipped with heavy Howitzer guns firing large calibre shells in a high trajectory."
Mr Gintner was pleased to be able to reunite the Star medal with his grandfather's other wartime medals, which had also been taken during the burglary but were found soon after.
Although his grandfather survived the war, he was sadly killed in a road accident in 1933 when he was run over by a van.
Steve Smith is happy to offer advice to people researching relatives' wartime histories.
See www.memorial-tours.org.uk
Full credit for this story goes to -
http://www.dissexpress.co.uk/news/latest-news/diss-man-reunited-with-grandad-s-lost-medal-1-5148404

Partners and funds are also being allocated in the UK and in NZ to explore, conserve and share WW1 heritage.
Many commemorative projects are now in progress.
The commemorations have been designed to encourage a wider knowledge of how WW1 shaped the world we live in today, as well as deepen our present-day understanding of the men and women of the period - whether they were at the front, or at home.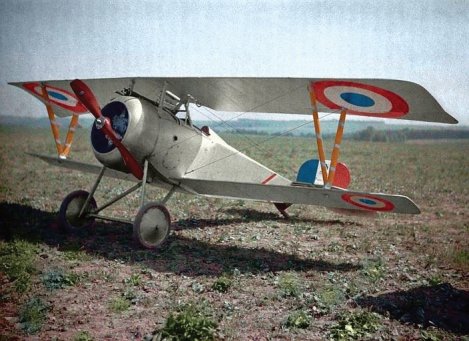 WW1 - Nieuport biplane fighter. (Haut-Rhin, France 1917) by Paul Castelnau
This image has been digitally minipulated.
Read about some of the grants and projects here -
http://www.bbc.co.uk/news/uk-scotland-22525992
http://www.hlf.org.uk/HowToApply/whatwefund/FirstWorldWar/Pages/FirstWorldWar.aspx#.UbXFAthaeyo
http://www.communitymatters.govt.nz/Funding-and-grants---Lottery-grants---Lottery-Environment-and-Heritage
http://www.1914.org/
/