Shopping Cart
Your Cart is Empty
There was an error with PayPal
Click here to try again
Thank you for your business!
You should be receiving an order confirmation from Paypal shortly.
Exit Shopping Cart
Recherché Specialty Picture Framing

191B Heidelberg Rd. Northcote Vic. 3070 Call 61 3 9486 1236
East to West, North to South: ART, SERVICE MEDALS, FRAMING
CENTENARY OF THE FIRST WORLD WAR, 1914 - 1918
An enthusiatic committee of the Victorian Agricultural Show at Rochester, this year featured the ANZAC Centenary.
New classes in both cookery and art sections were introduced, each with a variety of age-related sections.
And all of us here at Service Medals Melbourne and Recherché of Northcote are very excited to congratulate Annette Waters on her variety of wins at the show this year.
Annette is one of 80 students leaving for Turkey on 20th April! 
We met Annette, and her mother and father, when they came to obtain replica medals awarded to her great grandfather Private Norman McKenzies Rolls who served with the AIF 5th Battalion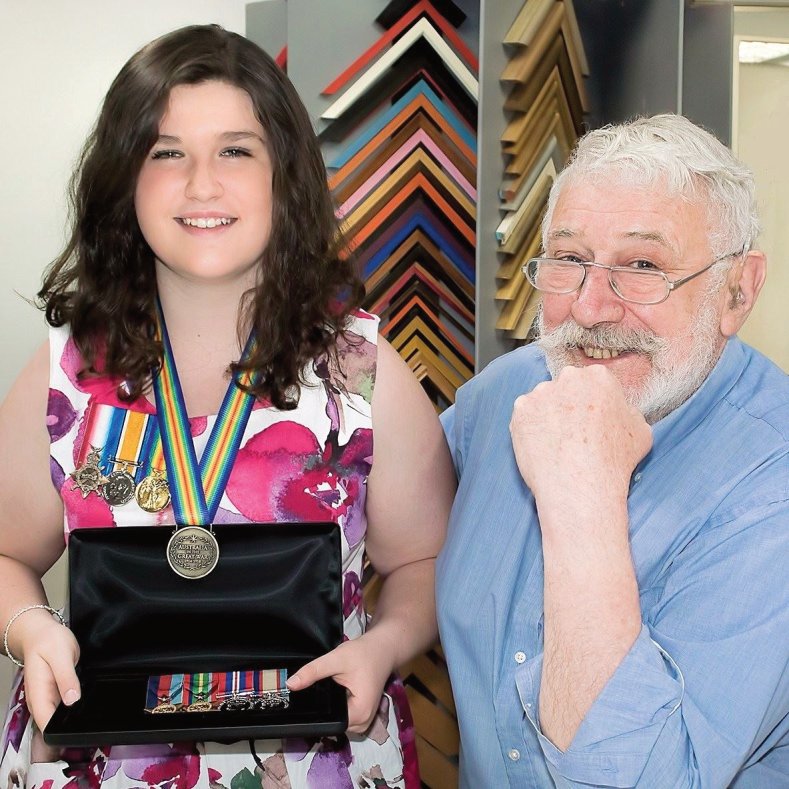 Annette is pictured with Frame-maker & Medal-mounter Neville Crawford- Photo Credit Claire Waters

But perhaps it is better to let her heartfelt "Spirit of the ANZAC Entry" tell the story -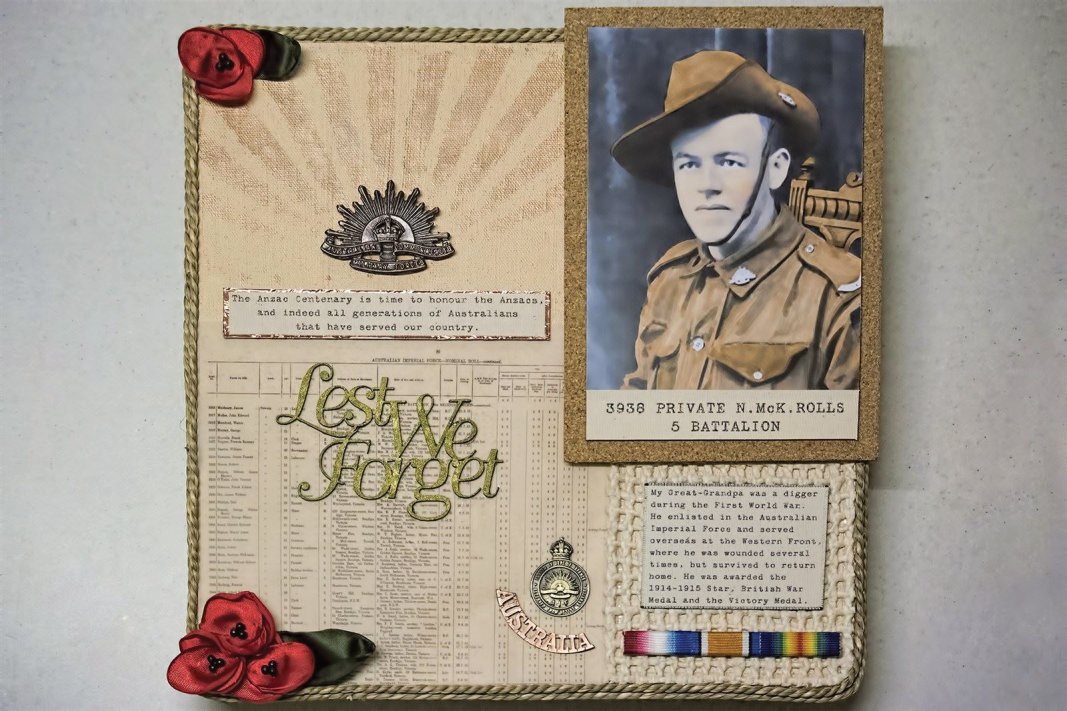 SHOW SECTION was - "Spirit of the Anzac" - A small write up and picture about the ANZAC landing, or about a specific soldier." (Under 18 years). Annette's artwork won first prize, plus a blue ribbon sash for best art exhibit (under 18 years)
Annette recorded the following information on the back of the canvas:
COMMEMORATING THE ANZAC CENTENARY 2015
A Tribute to my Great-Grandpa - Norman McKenzie Rolls
Mixed media
Acrylic on canvas; sprayed with metallic ink and glimmer mist
Featuring
A portrait of my Great-Grandpa wearing his Australian Imperial Force uniform. This photograph was taken during the First World War - circa 1915. Digital scan; laser print coloured with Copic markers.
AIF First World War Nominal Roll - Page 89 shows my Great-Grandpa's details (also for his brother - Josiah Rolls - who later lost his life at the Western Front, and is buried in Belgium). Source: Australian War Memorial.
Embellished with
Replica "Rising Sun" and "AIF Returned from Active Service" badges
"Australia" shoulder title
medal ribbon bar
cork, sea grass cord, jute, chipboard, vellum, silk webbing, canvas, copper, ribbon, beads
(By Annette Waters - February 2015)
And here's the "Blue Ribbon" version -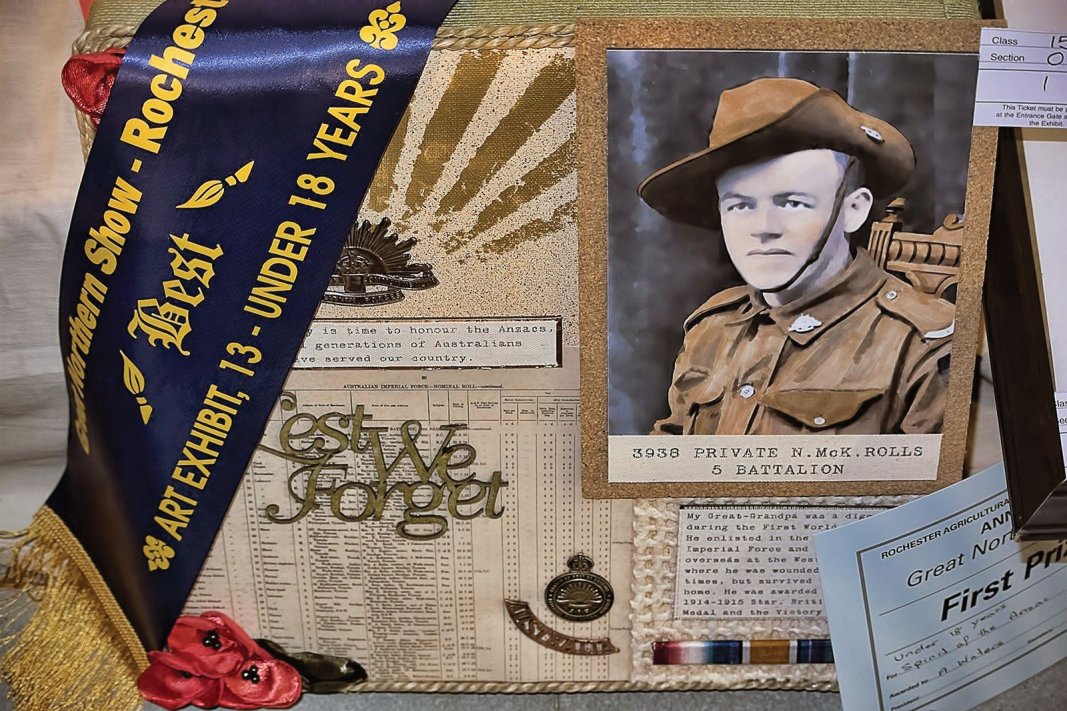 It will be on display whenever she has a speaking engagement after she returns home from Gallipoli. Meanwhile, it will be finding a very special place on the wall at home!
Congratulations once again Annette.
We look forward to hearing more about this incredibly exciting tour soon to take place.
PS  In the hotly contested section  "Anzac biscuits -four" (Boys or Girls 14-18 years), Annette won second prize! Congratulations once again!
Related links -
And our especial thanks go to Claire Waters for the fantastic photographs and the very informative and warm correspondence we are now having!  Lovely to feel a part of your story. Thank you so much Claire and Gavan and Annette.

My trip to the Western Front was planned for 2011.
In preparation for this trip I researched my great uncle's records from the National Archives and the Australian War Memorial.  I knew my great uncle very well and spent a lot of time with him until his death aged 90 in 1972 when I was 16.  
At that stage I had no idea about his military history only that he served in the war and my interest only grew as I got older.  I found out that he was awarded the Military Medal and Mentioned in Despatches but no-one in our family knew where his medals were.
I went to Northern France and Belgium in 2011 and retraced my great uncle's footsteps through the war diaries on the Australian War Memorial website.  I visited the Windmill site at Pozieres.  Located at the memorial site in a glass information box was a photo of four unidentified gunners with a rundown of what occurred during July-August 1916.
  I was stunned when I saw this photo as the gunner (2nd from right) looked the image of my great uncle.  He would have been 34 at the time the photo was taken and located in the area.    There were no known photos of my great uncle during the time he served in the army and the only picture I had of him was an old photo when he was aged 70.  I took a photo of the information box at the Pozieres site containing the photo and continued my trip.
When I returned home I set out to prove that this man in the photo was my great uncle.
After much investigation, and with the assistance from staff from the  Commonwealth War Graves/Memorials and the Australian War Memorial, the same photo was located on the AWM website in the photo collection.  It was identified as C00450 with the citation below.   I told my story to the AWM but they said they couldn't change the citation under the photo acknowledging the name of my great uncle without actual proof.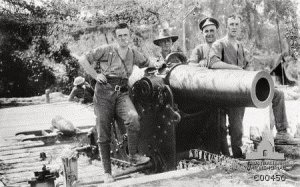 Group portrait of four unidentified gunners with one of the battery of 8 inch (French) mortar guns that used to fire on the Pozieres windmill. (From the collection of 704 Driver Ernest Charles Barnes who served with the 1st Field Artillery Brigade, 21st Howitzer Brigade and 2nd Field Artillery Brigade.)
 Over the next six months I came across his war medals during a clean out of a relative's house after they had passed away, the medals had been missing for around 40 years.  I already had my great uncle's name tag, two rising suns from his uniform and return soldier's badge which my father had in his possession.
I took the medals and other items along with the photo above (which I purchased on CD from the AWM) and the only photo I had of my great uncle in his 70s to Recherché Specialty Picture Framing in Northcote as I wanted to get the items in a display frame but I also really wanted to get photographic comparisons done to show that the gunner was indeed my great uncle.
  The folk at Recherché arranged for their specialist photographer Alan Lesheim to undertake a process of identification.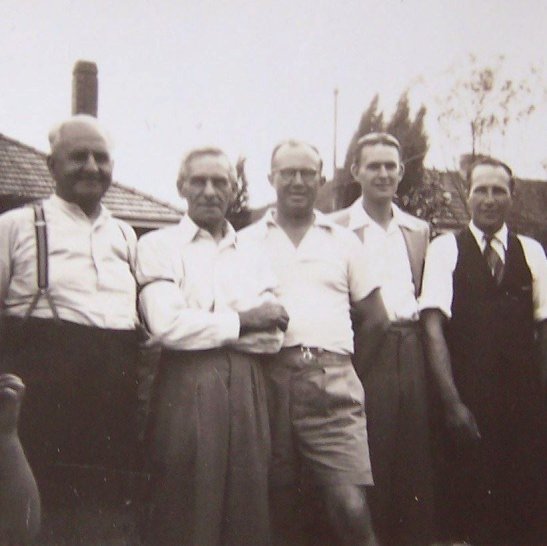 This is the good news we received
We were all so thrilled to have this outcome. My next goal was to get the citation under the photo on the AWM website changed to include my great uncle's name.
I then contacted the AWM sending on the backup documentation around the photo identification process. and later received the following response:
After examining Driver Pidoto's service record, official  war diaries and your family photograph of him in later years, the best we can say is that the man in AWM photograph is possibly him.  I think I've explained the stringent requirements we require before we  add an identification to an AWM group portrait. 

However  in this case we have decided to modify the caption so that it will read:

  "Group portrait of four Australian artillery men with one of the battery of 8 inch (French) mortar guns that used to fire on the Pozieres windmill. (From the collection of 704 Driver Ernest Charles Barnes who served with the 1st Field Artillery Brigade, 21st Howitzer Brigade and 2nd Field Artillery Brigade.) The smiling man, second from right, is possibly 10781 Driver (Dvr) John Pidoto MM, 6th Field Artillery Brigade. Dvr Pidoto was awarded the Military Medal for bravery in laying signal wire under enemy artillery fire near Ecoust, France in April 1917"
So after a long process I achieved my goal of having my great uncle identified in the photo at Pozieres memorial site and the citation under the photo (AWM C00450) on the Australian Memorial website changed.   I only hope that the other three gunners can be identified in the not too distant future.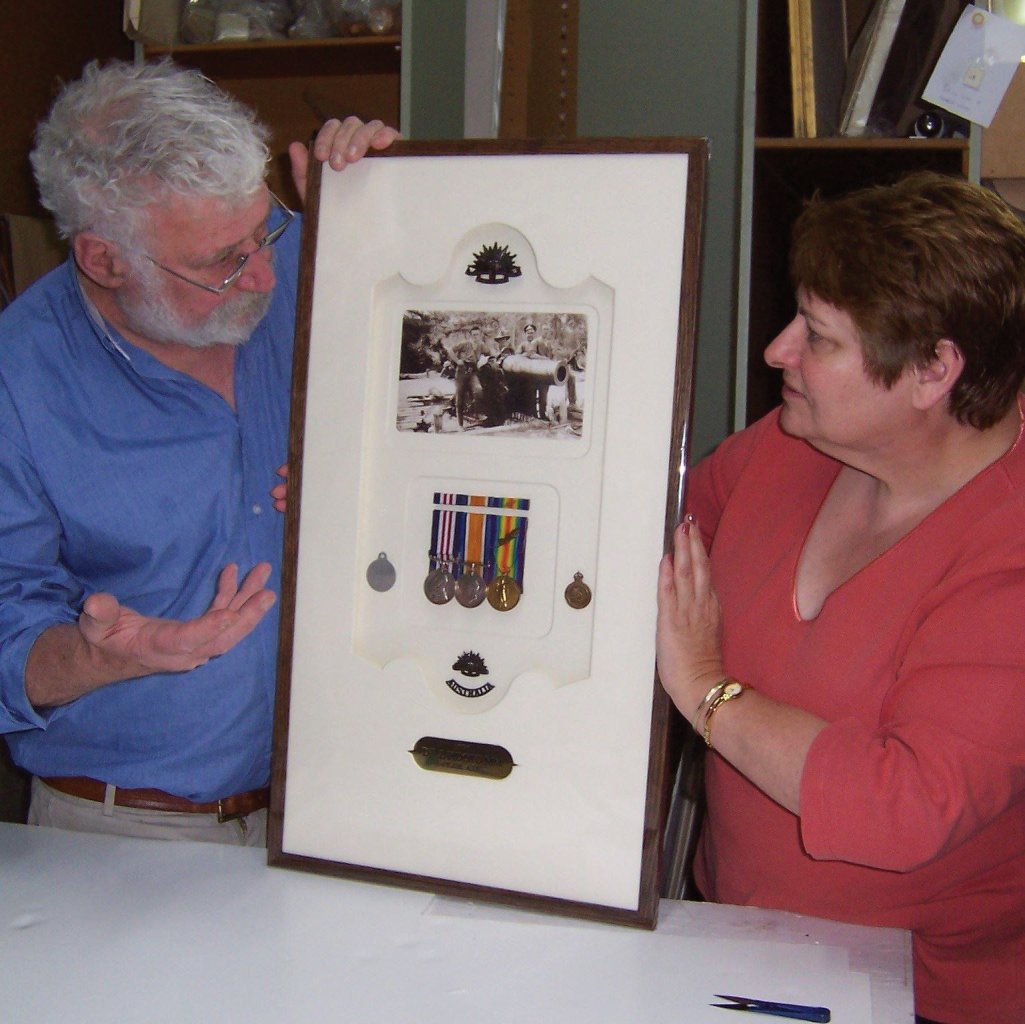 FOOTNOTE FROM THE FRAMER
Identifying World War I photographs for framing
All our work is interesting but this job was particularly engaging! Our customer Anne discovered at the Windmill site in Pozieres, a photograph that she believed was an image of her relative operating a trench mortar on the Western Front during World War I. To compare the photograph of the soldier with the image of this gent as an older man, we explored a variety of facial recognition techniques. Finally however, with the assistance of our photographic restorer and his "old school skills", it was indeed  possible to verify this identification! We have now been able to combine this eloquent image from the Western Front in a framed display together with the soldier's original medals and badges. Another very happy customer and what a story this has turned out to be.
The Centenary of WW1 has awakened our memories and emotions of the past.


The participants often chose to try and forget their experiences, and, if they spoke about it, it was only to those who had gone through the same horrors.
Their descendants are trying to preserve and understand what remains of their sacrifice.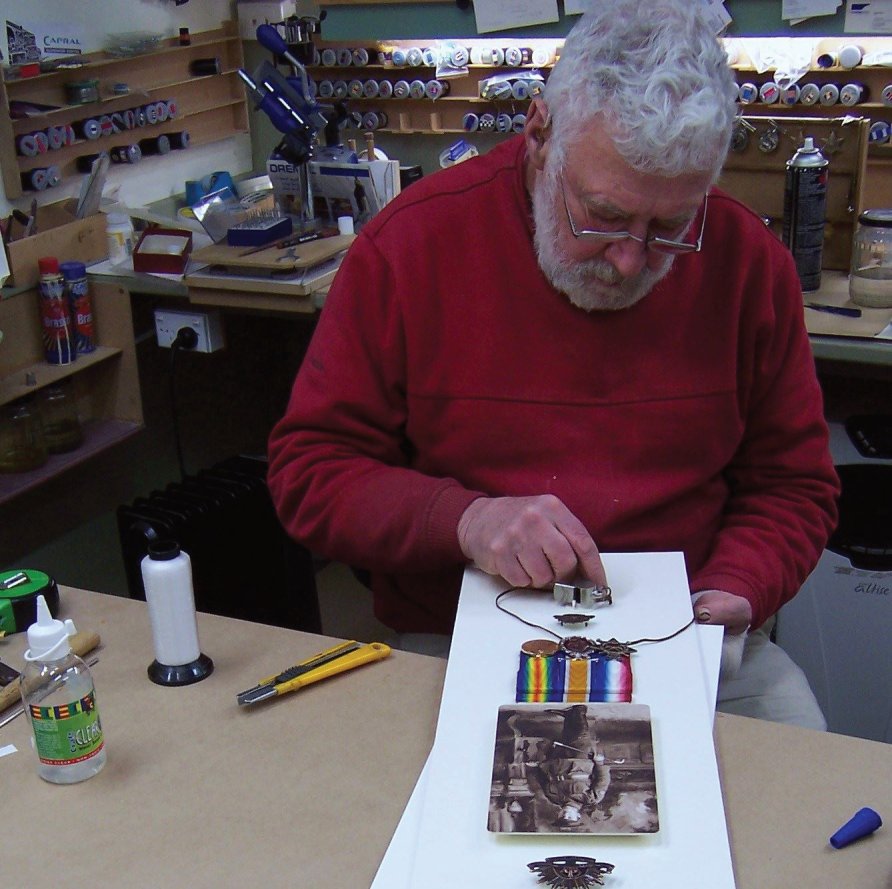 Some examples and stories we have been involved with include -
A 'lost' postcard sent to a soldier, who before his mail arrived to him, was badly wounded at the Battle of Fromelles. The 'undelivered' postcard was found in the mud of the Somme by another soldier and by this great good fortune it eventually reached the addressee.
The 303 clip of bullets worn on a bandolier that stopped a Boer bullet in the South African war.
The English-French dictionary that stopped a piece of shrapnel.
A woman who saw a familiar face in a photograph on display while touring the Western Front who later became able to identify one of the un-named soldiers as her Great Uncle.
It is not unusual at our design counter for there to be tears while discussing the presentation of these very personal items that mean so much to their owners.
As a picture framer it is essential to have or to access both correct preservation and presentation procedures, as well as understanding the nature of the contents intended  for display.
/