Shopping Cart
Your Cart is Empty
There was an error with PayPal
Click here to try again
Thank you for your business!
You should be receiving an order confirmation from Paypal shortly.
Exit Shopping Cart
Recherché Specialty Picture Framing

191B Heidelberg Rd. Northcote Vic. 3070 Call 61 3 9486 1236
East to West, North to South: ART, SERVICE MEDALS, FRAMING
CENTENARY OF THE FIRST WORLD WAR, 1914 - 1918
From Rosebud ...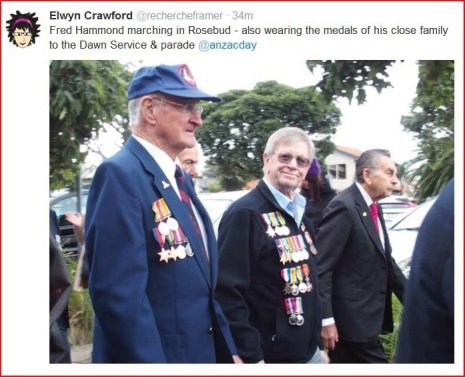 ... to Hyde Park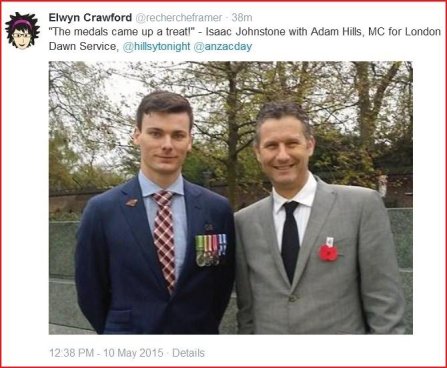 Well we were certainly busy in the medal room at Recherche's SERVICE MEDALS MELBOURNE - check out the posts as we steadily made our way through the promises.
30th March
New orders always welcomed, but we can no longer guarantee completion of

medal mounting before ANZAC DAY 2015 - watch for updates here ...
3rd April
Hoping we'll be able to take on new orders for completion before ANZAC Day

but we're still not promising yet.

7th April

We regret we are currently unable to promise finishing any new medal mounting orders
for before ANZAC Day. Next UPDATE April 14
17thApril

Last week before ANZAC DAY
To enquire if we can assist you before ANZAC Day please call (03) 9486 1236

Pick up from Northcote only.
So many people so very keen to wear their medals or wear those of their family member in the many marches held around the world. 
Quite a privilege to be a little involved in their stories and so great to see the result of our labours being worn on the day.
Thank you for the photographs and the stories from the day,
appreciated very much.

An enthusiatic committee of the Victorian Agricultural Show at Rochester, this year featured the ANZAC Centenary.
New classes in both cookery and art sections were introduced, each with a variety of age-related sections.
And all of us here at Service Medals Melbourne and Recherché of Northcote are very excited to congratulate Annette Waters on her variety of wins at the show this year.
Annette is one of 80 students leaving for Turkey on 20th April! 
We met Annette, and her mother and father, when they came to obtain replica medals awarded to her great grandfather Private Norman McKenzies Rolls who served with the AIF 5th Battalion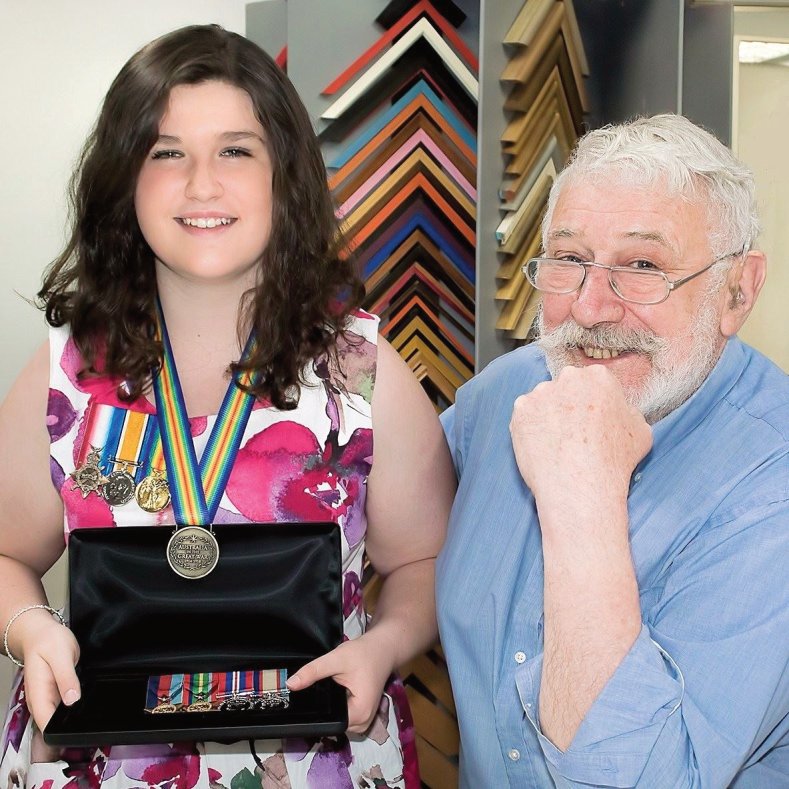 Annette is pictured with Frame-maker & Medal-mounter Neville Crawford- Photo Credit Claire Waters

But perhaps it is better to let her heartfelt "Spirit of the ANZAC Entry" tell the story -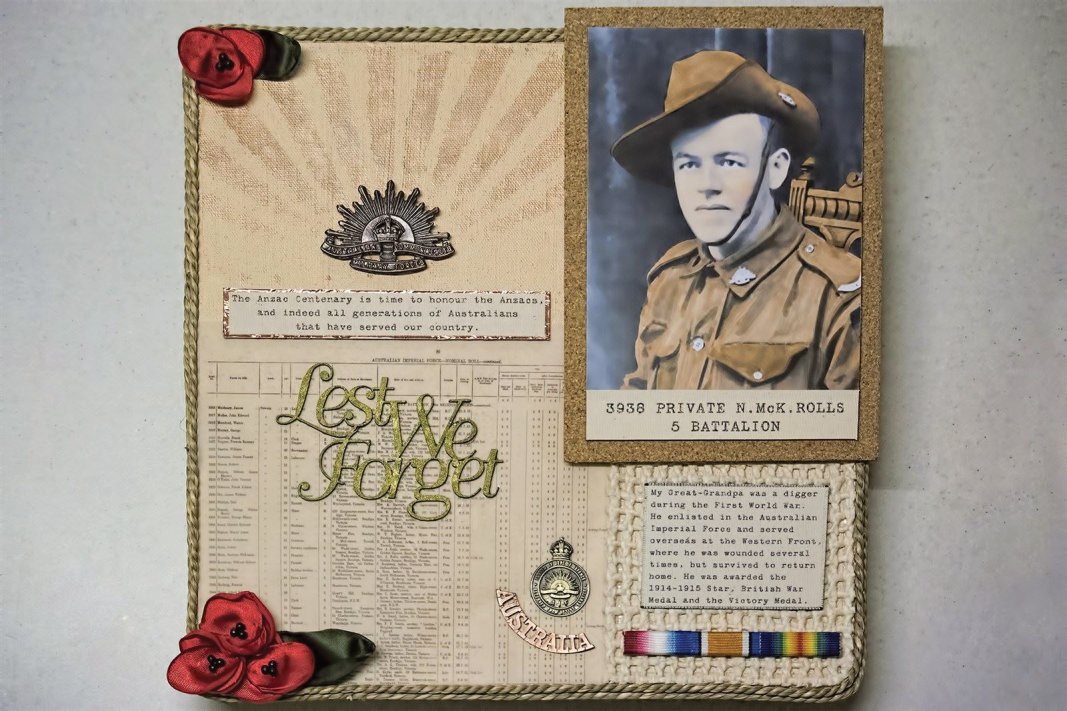 SHOW SECTION was - "Spirit of the Anzac" - A small write up and picture about the ANZAC landing, or about a specific soldier." (Under 18 years). Annette's artwork won first prize, plus a blue ribbon sash for best art exhibit (under 18 years)
Annette recorded the following information on the back of the canvas:
COMMEMORATING THE ANZAC CENTENARY 2015
A Tribute to my Great-Grandpa - Norman McKenzie Rolls
Mixed media
Acrylic on canvas; sprayed with metallic ink and glimmer mist
Featuring
A portrait of my Great-Grandpa wearing his Australian Imperial Force uniform. This photograph was taken during the First World War - circa 1915. Digital scan; laser print coloured with Copic markers.
AIF First World War Nominal Roll - Page 89 shows my Great-Grandpa's details (also for his brother - Josiah Rolls - who later lost his life at the Western Front, and is buried in Belgium). Source: Australian War Memorial.
Embellished with
Replica "Rising Sun" and "AIF Returned from Active Service" badges
"Australia" shoulder title
medal ribbon bar
cork, sea grass cord, jute, chipboard, vellum, silk webbing, canvas, copper, ribbon, beads
(By Annette Waters - February 2015)
And here's the "Blue Ribbon" version -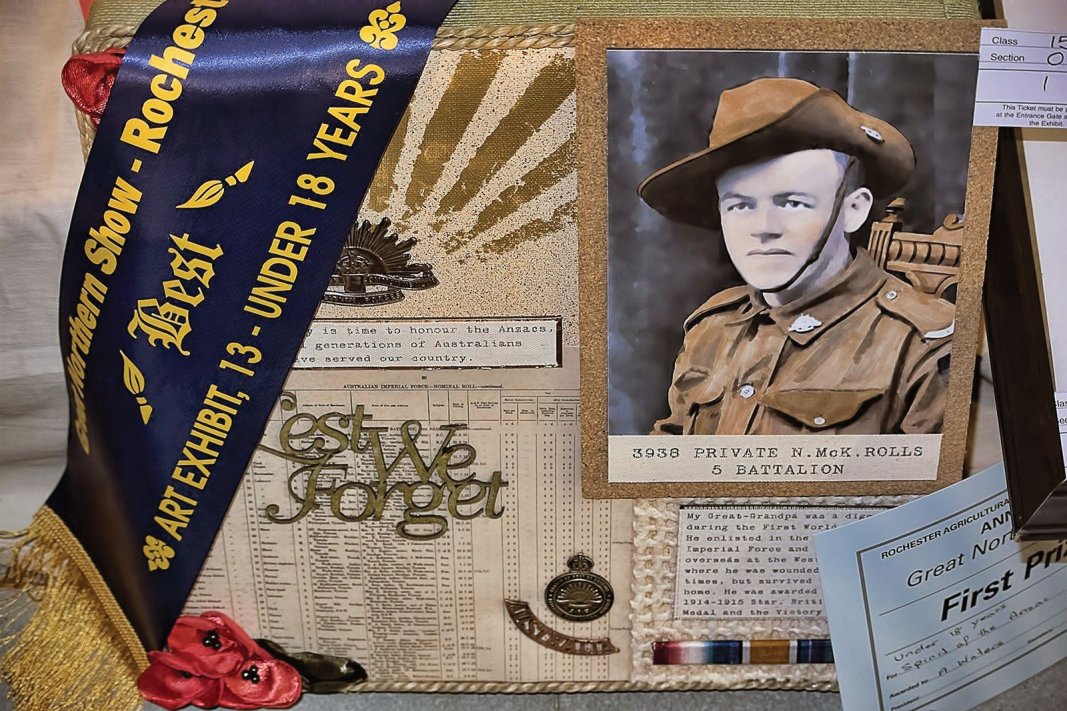 It will be on display whenever she has a speaking engagement after she returns home from Gallipoli. Meanwhile, it will be finding a very special place on the wall at home!
Congratulations once again Annette.
We look forward to hearing more about this incredibly exciting tour soon to take place.
PS  In the hotly contested section  "Anzac biscuits -four" (Boys or Girls 14-18 years), Annette won second prize! Congratulations once again!
Related links -
And our especial thanks go to Claire Waters for the fantastic photographs and the very informative and warm correspondence we are now having!  Lovely to feel a part of your story. Thank you so much Claire and Gavan and Annette.

/