Shopping Cart
Your Cart is Empty
There was an error with PayPal
Click here to try again
Thank you for your business!
You should be receiving an order confirmation from Paypal shortly.
Exit Shopping Cart
Recherché Specialty Picture Framing

191B Heidelberg Rd. Northcote Vic. 3070 Call 61 3 9486 1236
East to West, North to South: ART, SERVICE MEDALS, FRAMING
CENTENARY OF THE FIRST WORLD WAR, 1914 - 1918
| | |
| --- | --- |
| Posted on October 17, 2014 at 8:38 PM | |
The 14th Battalion Colours and Battle Honours are on display in the foyer of the St. Kilda Town Hall in the City of Port Phillip.
For the Centenary Dinner, we entered the hall adjacent to the foyer through a doorway above which was displayed the Colours of the 14th Battalion AIF.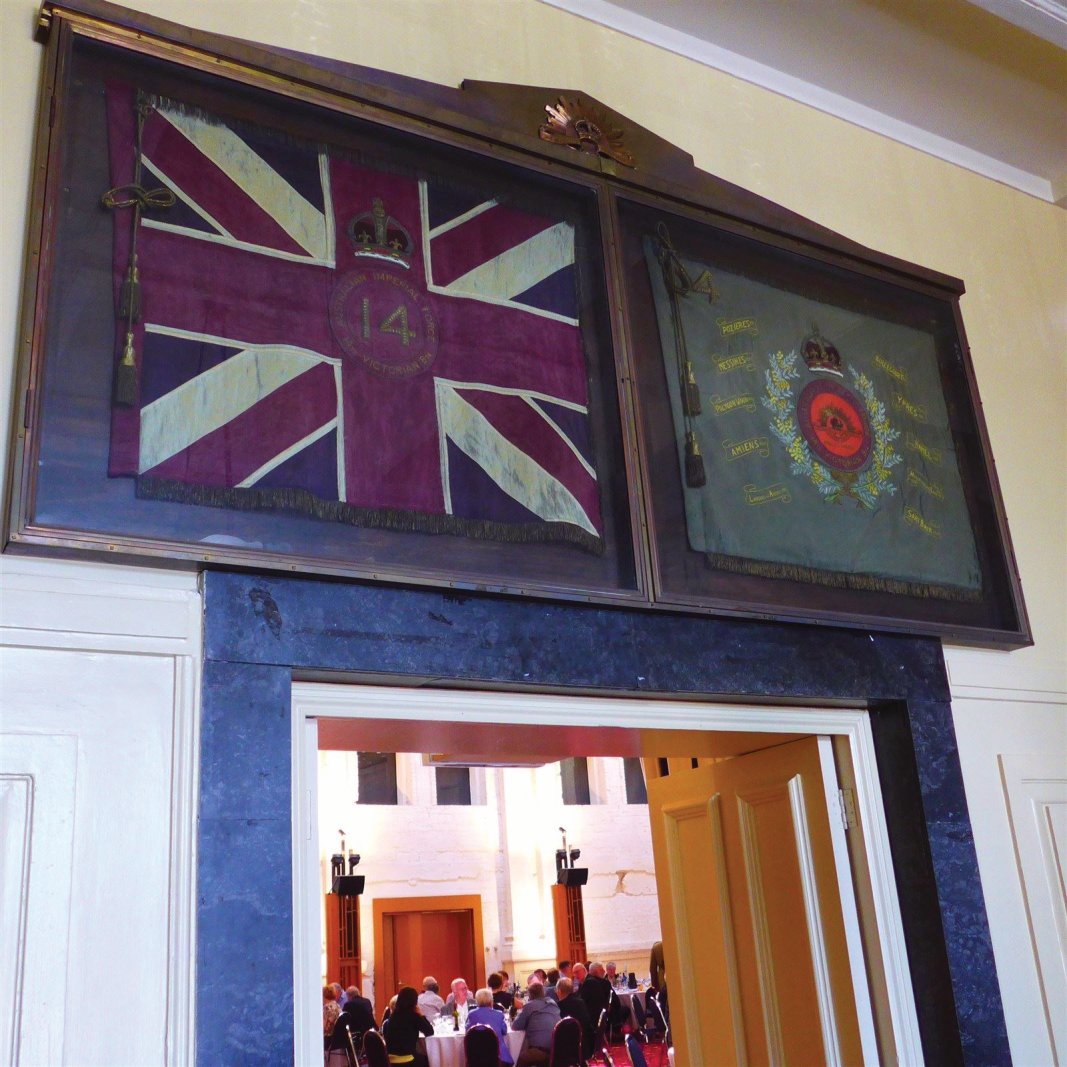 You can read about the tradition and background of regimental colours

here











Landing at Anzac

25 April 1915 - 26 April 1915

Awarded for participation in the amphibious assault, landing and consolidation of defensive positions at Anzac Cove.




Sari Bair

06 August 1915 - 10 August 1915

Awarded for operations at Anzac between 6-10 August 1915, including the breakout, the various diversions, and operations conducted in support of the Suvla landing.




Pozières

23 July 1916 - 03 September 1916

Awarded for operations conducted as part of the 1916 British Somme offensive in the vicinity of the village of Pozières, including the battle of Mouquet Farm.




Bullecourt

03 May 1917 - 17 May 1917

Awarded for involvement in the Second Battle of Bullecourt: two weeks of bitter trench fighting which eventually, and at the cost of 2,250 Australian casualties, cleared and held part of the Hindenburg Line.




Messines

07 June 1917 - 14 June 1917

Acknowledges participation in the assault on, and occupation of, the Messines Ridge on the Western Front carried out by units of General Plumer's Second Army.




Ypres

31 July 1917 - 10 November 1917

Awarded to recognise involvement in the Third Battle of Ypres, the two weeks of bitter trench fighting in Flanders in 1917 (known unofficially as the Passchendaele Offensive).




Polygon Wood

26 September 1917 - 03 October 1917

Awarded for participation in the operations to secure strongly defended German positions in the vicinity of Polygon Wood and to consolidate positions on the Menin Road Ridge. Characterised by bitter fighting and fierce German counter-attacks.




Hamel

04 July 1918 - 04 July 1918

Acknowledges participation in the limited attack mounted around the village of Hamel in July 1918 as part of operations to straighten the Allied line. This honour was awarded exclusively to Australian battalions.




Amiens

08 August 1918 - 11 August 1918

Awarded for involvement in operations to the east of Amiens that launched the great Allied offensive of 1918. An "all arms battle", the Allies made effective use of infantry, artillery tanks and aircraft, which led to an unprecedented advance and vast numbers of German prisoners.

8 August became known as the "black day of the German Army'




Hindenburg Line

Called the "Siegfried Stellung (Line)" by the Germans, this complex system of defensive fieldworks and mutually supporting fortifications was named the "Hindenburg Line" by the Allies. This withdrawal straightened the German line, reducing its length by 25 miles and releasing 13 Divisions for service in the reserve.



















Categories: @rechercheframer, Albert Jacka, Albert Jacka Descendants, Anzac Cove, Australian Gallipoli Campaign, Centenary World War 1, City of Port Phillip, First World War, Neville Crawford, The Great War Centenary, Western Front

0

/